Hello,
Every year for the past several years, on the
Happier with Gretchen Rubin
podcast, we've talked about how we plan to "
design our summer
."
This try-this-at-home idea was originally inspired by writer Robertson Davies, who noted:
Every man makes his own summer. The season has no character of its own, unless one is a farmer with a professional concern for the weather. Circumstances have not allowed me to make a good summer for myself this year…My summer has been overcast by my own heaviness of spirit. I have not had any adventures, and adventures are what make a summer.
Summer is a season of possibility, but the time can slip by, and suddenly, it's autumn. By deciding to "design my summer," I make sure to set aside time for something that will make the season feel distinctive.
This summer, I want to read, I want to re-read, and I want to spend a lot of time outside. I love visiting the Met every day, but for the summer, I might change my rule to "Visit the Met
or
Central Park every day." It's funny—as an Upholder and habits zealot, I'm finding it really hard to consider changing my habit of daily Met. Stay tuned.
Also, as research shows, trying new things tends to make us happier, and summer can be a great time to try something new. I'm pondering what that might be for me.
What might you do to design your summer?
Onward,

5 Things Making Me Happy

Months ago, I made a sheet of tour events for quick reference and kept it posted my bulletin board. Now it's time to take it down and store it in my Memento Journal. As a finisher, I love a ritual of completion.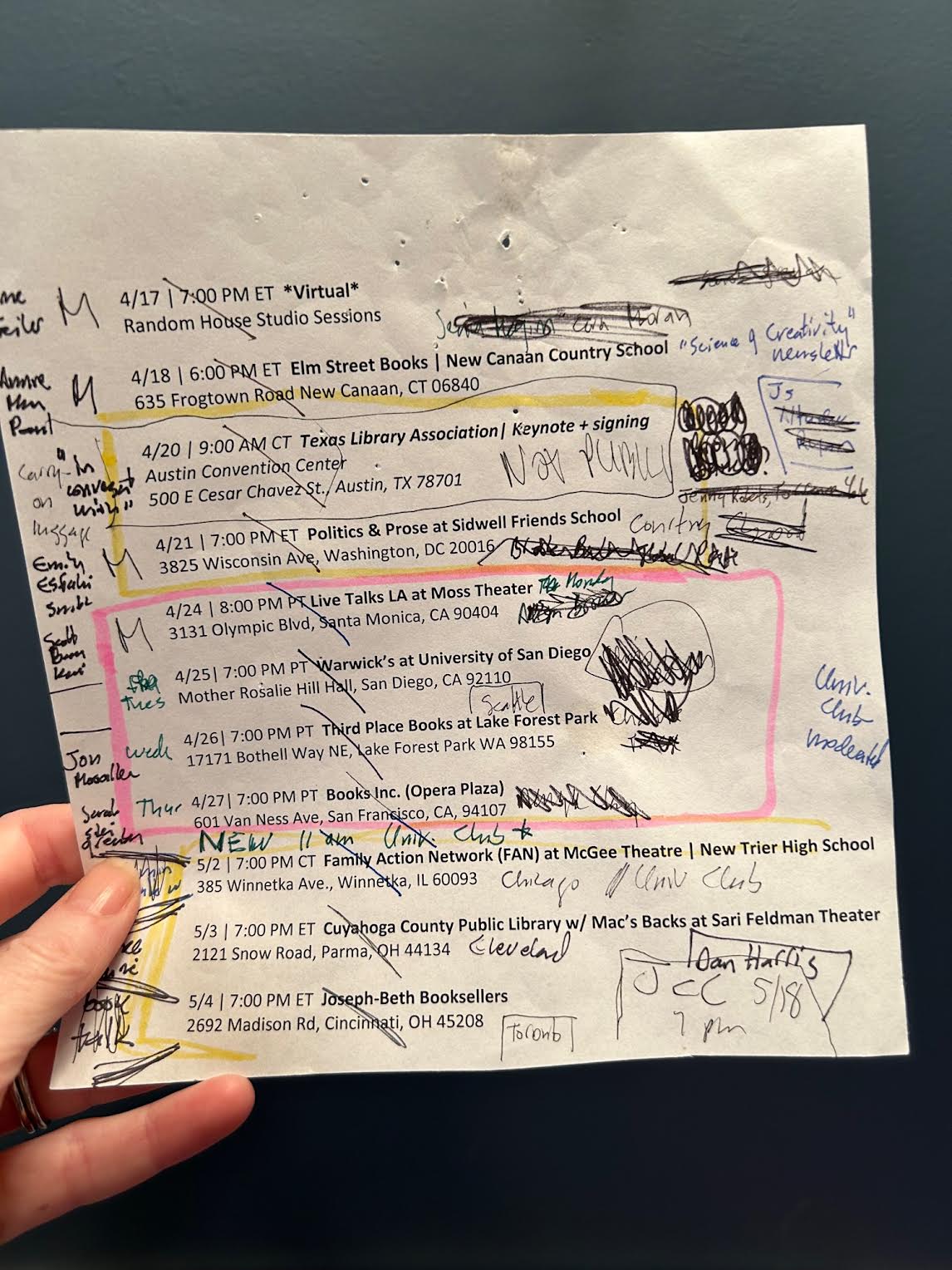 The other night, I happened to turn on a fascinating TV program on PBS. The NOVA episode "Your Brain: Perception Deception" explores one of the most fascinating aspects of the five senses: "You can't always trust what you perceive." The show explored "the surprising tricks and shortcuts the brain takes to help us survive." I wished that the episode had been much longer.

I love spotting whimsy in everyday life, and I got a big kick out of seeing this boom lift painted with a giraffe-hide pattern. The equipment really did create the impression of a very tall giraffe stretching up to munch some leaves—a surprising bit of wildlife on Fifth Avenue.

In Life in Five Senses, I write about how I've loved E. L. Konigsburg's masterpiece, From the Mixed-Up Files of Mrs. Basil E. Frankweiler, for my whole life, and how the novel was part of what has inspired me to visit the Metropolitan Museum every day. I was fascinated to learn more about the novel's background, and in particular, to find the Met's video, "Can We Talk About the Mixed-Up Files and Met?" which somehow I'd never seen before. In the design of Life in Five Senses, I was gratified to be able to make use of the endpapers to display many favorite quotations—one of which is from The Mixed-Up Files. "She decided that her leaving home would not be just running from somewhere but would be running to somewhere. To a large place, a comfortable place, an indoor place, and preferably a beautiful place. And that's why she decided upon the Metropolitan Museum of Art in New York City."

Before my New York City book event, a thoughtful reader gave me this pack of Diet Peach Snapple mix. I write about Diet Peach Snapple in Life in Five Senses, and now, I find, people really associate me with that obscure beverage. So fun!
Updates

Drift—the decision we make by not deciding—is a common happiness stumbling block. The solution? Self-knowledge.
Get 15% off any one of the Know Yourself Better journals with code: 1KYB15
Or, get 25% off any combination of three Know Yourself Better journals with code: 3KYB25
This week on Happier with Gretchen Rubin
PODCAST EPISODE: 432
As we do each year, we consider how we plan to design our summer. We also discuss a hack from a food-scientist listener about an easy way to have more fun with the sense of taste, and we talk to Sarah LaFleur, founder and CEO of M.M.LaFleur, about the pleasures of clothes.
ARTICLE
The Opposite of Meditation Is…Recess & I Need More Recess.
ARTICLE
Design Your Summer with the Happier App
Q: From your book, can you share an observation about how we might help ourselves to become happier, healthier, more productive, or more creative?
A: My book is about the code of "goodness" that circumscribes women's lives, a code that's largely invisible because it is so baked into culture—and often mistaken for nature. This code is the Seven Deadly Sins, which emerged out of the desert at the same time that the New Testament was being canonized (so nope, they weren't in the Bible). Sloth, Envy, Pride, Greed, Gluttony, Lust, Anger: These are all basic human impulses that women, specifically, police in ourselves—and most sadly, in each other.
One of the primary tenets of goodness is that women should subjugate their wants to the needs of others, to the extent that many of us don't know what we want at all. To want things is one of the animating impulses of life—it's what puts us in touch with our deepest selves and the source of both our vitality and our creativity. In the book, I argue that Envy is the gateway to the other sins, because it puts us in touch with our wanting—but because we think of this instinct as so unseemly and bad, we suppress it at its first expression, and so our envy largely goes undiagnosed. One of the ways to identify our wanting is to notice where our attention goes in the world—namely who bothers you for reasons you don't immediately understand. Typically, this person is doing something that you'd like to do for yourself; they might be pushing on a dream you have for yourself. Instead of envying them, judging them, loathing them, you can use what they've accomplished as a roadmap for self-expression.
Q: In your own life, have you found ways to tap into the power of your five senses? (For instance, I often take a sniff of a spice jar as I pass through my kitchen to help ground me in the present moment.)
A: Yes! Writing this book was an act of therapy—as I worked my way through the Gluttony chapter I realized how disconnected I had become from my body, how disassociated from my own appetite. Instead of finding pleasure in food, I had been either hoovering it down while standing over the kitchen sink or forgetting to eat entirely. When I find myself slipping into this pattern of not tasting, smelling, savoring, I do Dr. James Truman's trauma-informed mindful eating process where I eat very, very, very slowly. Painfully slowly. But it puts me back in my body—and in touch with my senses.
Q: Is there a particular motto that you've found very helpful? (I remind myself to "Be Gretchen.") Or a quotation that has struck you as particularly insightful?
A: I love Carl Jung's quote: "I'd rather be whole, than good." Wholeness requires bringing up everything we're inclined to repress as shadow.
Q: What simple habit boosts your happiness or energy?
A: Long walks in the neighborhood—there's a good hour-long loop, with a few hills, that's a great way to break up my workday, particularly when I'm in a deep writing or reading mode. Sometimes I have to remember to get up and move—often my best thoughts or new insights come when I give my conscious brain a break.
Q: Has a book ever changed your life – if so, which one and why
A: Oh man, impossible question—so many!
NEW YORK TIMES BESTSELLER
You signed up to receive this newsletter at gretchenrubin.com
Was this email forwarded to you? Subscribe here so you don't miss the next one.
{{ organization.name }} {{ organization.full_address }}