Hello,
This week, in episode 408 of the Happier with Gretchen Rubin podcast, my sister Elizabeth and I revealed our one-word themes for 2023.
In the past, I've often chosen very practical, straightforward themes such as "Infrastructure," "Repurpose," and "Delegate." Elizabeth's choices, by contrast, have often been more rich and multi-layered, with themes such as "Free Time," "Lighter," and "#6." So, following her lead, for 2022, I chose "Salt," a theme that turned out to have far more associations and applications than I expected. It's one of my all-time favorites. ("Sugar cares only about itself, salt brings out the best in others." Summer, Karl Ove Knausgaard)
For 2023, my one-word theme is "Wave." It has so many layers of meaning for me—sound waves, light waves, waves of the sea, waving to people, adjusting to changing conditions…
To keep my theme uppermost in my mind, during one of my daily visits to the Met, I treated myself to a few items that feature Katsushika Hokusai's beautiful Under the Wave off Kanagawa. I tacked the postcard to the bulletin board next to my desk, I put the pin on my backpack, and I plan to use the sketchbook to help me ride the wave as my new book comes out in the spring.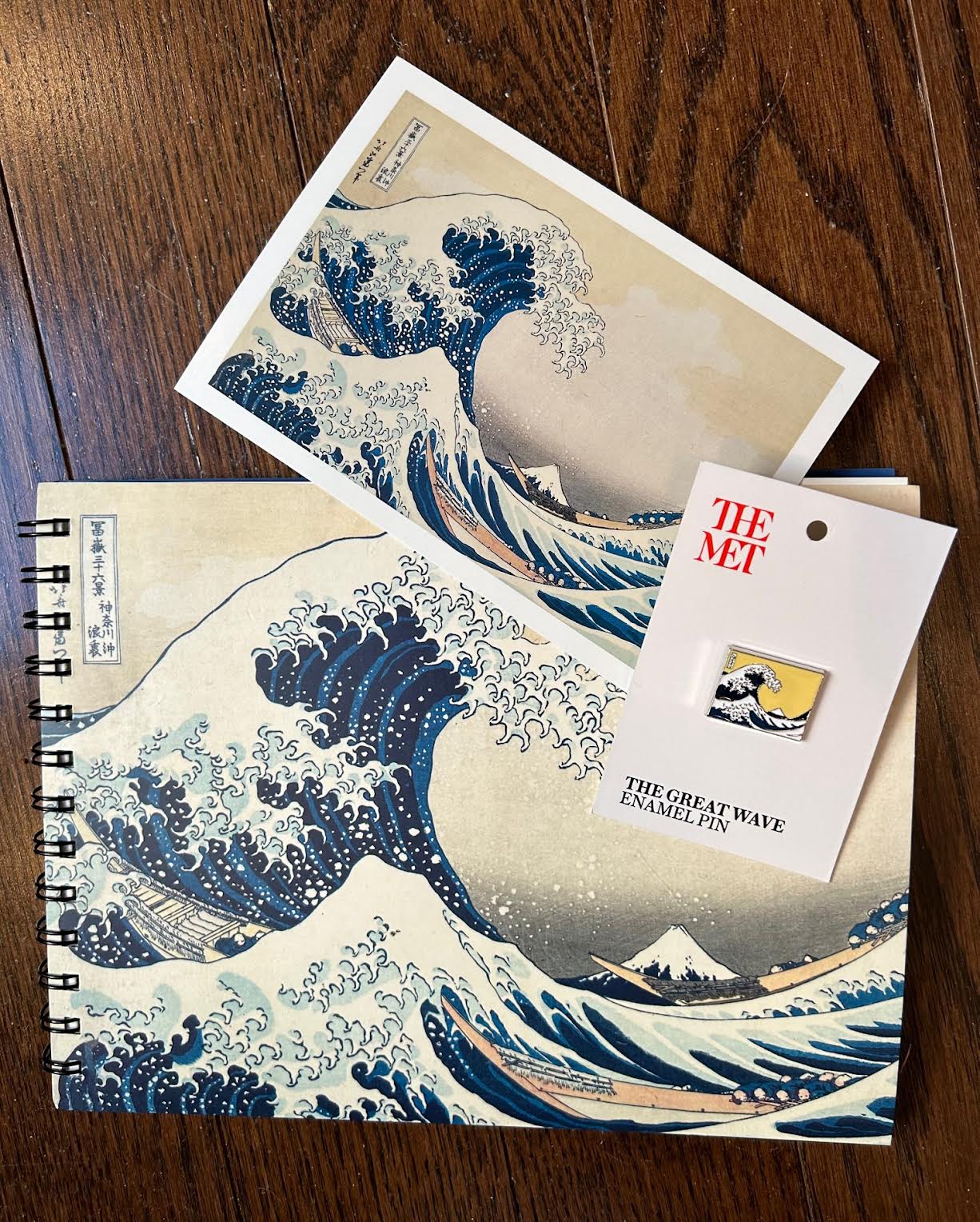 Onward,

5 Things Making Me Happy

I love books, and I love the art of book jackets. I pored over this round-up of some of the best covers from 2023—so much beautiful, original art. Do you ever buy a book just because you love the look of it so much? I have, many times.

I enjoy wandering around in thrift stores to look at all the surprising, random items gathered there. I got a kick out of this Cat in the Hat mug. I liked the way the three mugs stacked on top of each other, and I especially liked the quotation printed on the inside of the top mug—it's the last line of one of my favorite passages ever: "Look at me!/Look at me!/Look at me NOW!/It is fun to have fun/But you have to know how." So true. (Spoiler alert: I quote this line in my forthcoming book.)



In New York City, we're surrounded by hundreds of windows, and I love seeing all the Christmas trees and twinkle lights when I look up at apartment buildings. Can you spot the Christmas tree in the photo? It was the first one I saw this December — a view from our kitchen window.

Do you ever find yourself wanting something very badly, for absolutely no reason? Please, someone, give me a reason to justify buying this fill-in-the-blanks carnival prize wheel. I love spinning a wheel! As Creed told Pam about The Office's chore wheel, "A wheel wants to spin." People do love to spin a wheel — in the Happier app, one of the most popular features is the "Spin the Wheel," where you spin the wheel to get a five-minute happiness challenge.

"How much does a cloud weigh?" sounds like a trick question; after all, when something is light, we say it is "as light as a cloud." I was intrigued to learn that actually clouds are very heavy — which makes sense, given that they're made of water. Now that I know that fact, clouds seem to look different. The more we know, the more we notice.

Updates
Keeping a journal can be a great tool for building a happier, healthier, more creative life. Next week, starting Sunday December 18th, you can jump-start your habit of journal-keeping with seven days of concrete, actionable prompts in the Happier™ app. If you don't have the Happier app, you can download it for free.

Join me for an Instagram Live with my friend and original Four Tendencies guinea pig Ramit Sethi. Thursday 12/22 at 5pm ET / 2pm PT—click this post to get a reminder.
A Little Happier

A Little Happier: Why I Often Find Myself Reciting This Nursery Rhyme. Is It Well-Known, or Not?

Article

New Year's resolutions don't work for everyone. Instead, identify one idea, summarized in one word or phase, as your overarching theme for 2023.

Happier

408: We Reveal Our One-Word Themes, a Gift-Giving Hack, and Have You Ever Had an Uncanny Experience?
PODCAST
More Happier: More Corgi Fun, a Secret for Finding Lost Objects, and the Trend That's Sweeping the Nation

Listen now>
---
ARTICLE
5 Ways Keeping a Journal Boosts Happiness

Read more>
Pouring out ideas is better for creativity than doling them out by the teaspoon.

–GRETCHEN RUBIN
Want to be the first to know about new products and exclusive offers from The Happiness Project?
Sign up to get a deeper dive into featured products and tools, sneak peeks into new projects, and exclusive discounts and offers.
You signed up to receive this newsletter at gretchenrubin.com
Was this email forwarded to you? Subscribe here so you don't miss the next one.
{{ organization.name }} {{ organization.full_address }}