Happier with Gretchen Rubin
Ep. 453: "Halloween Is the New Christmas," the Ghost-Painting Challenge, and Fall Asleep to Podcasts
Update
The Muse Machine is here! We have limited quantities of this new item, so place your order now to ensure delivery in time for the holidays.
The Muse Machine is a collection of indirect directions—150 cards with somewhat mysterious creative prompts to consult whenever you feel stuck. The directions are short, suggestive, and open-ended, so that they spark unexpected insights.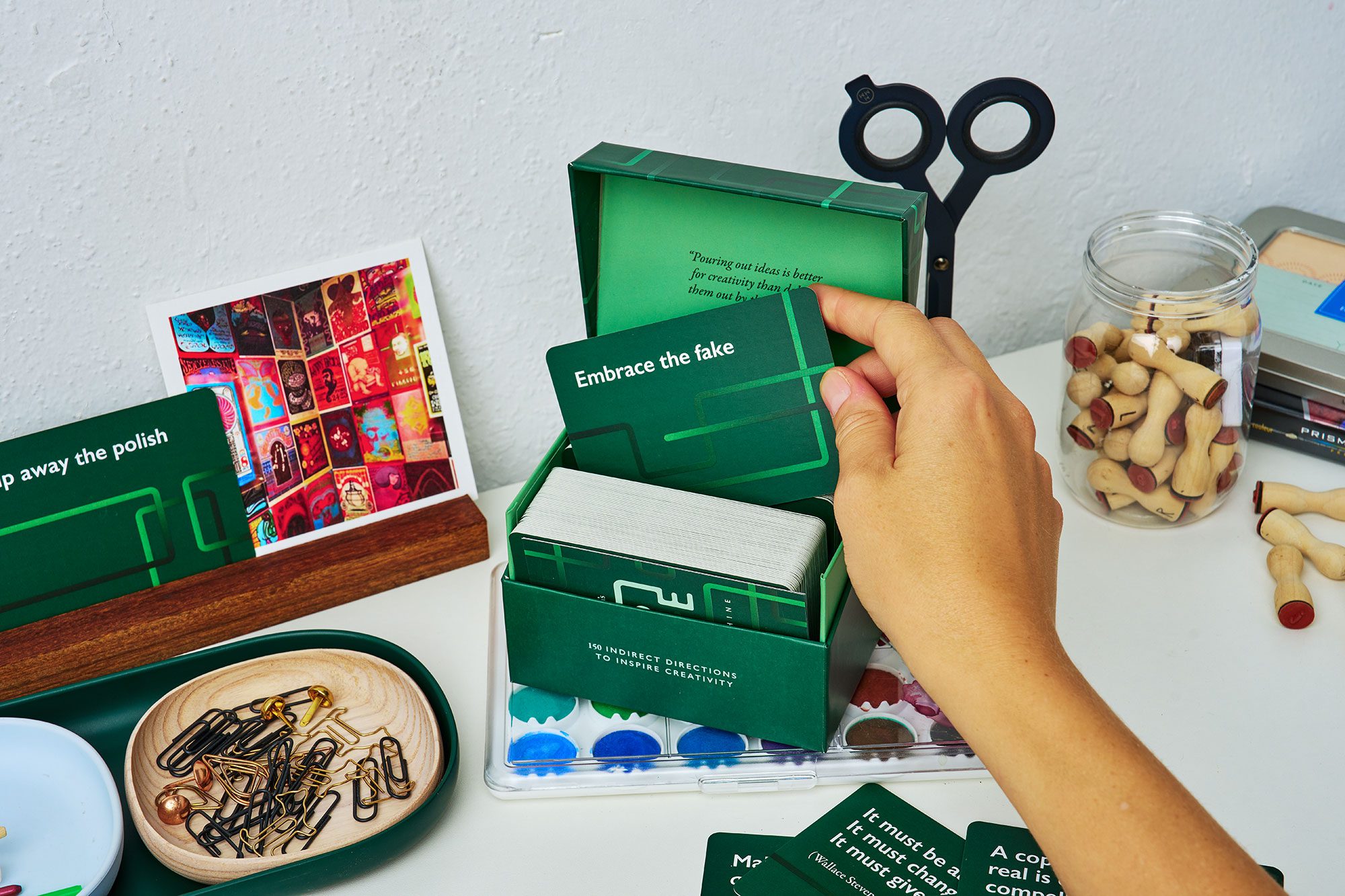 Try This at Home
Exercise your creativity with "__ is the new __." This idea was inspired by "Halloween is the new Christmas."
If you want to read a list I put together, it's here. I love these!
Happiness Hack
Try the "thrift ghost-painting challenge."
Fun with the Five Senses
Really tune in to the sensory delights of Halloween.
We mention the Five-Senses Journal. There are places in the journal to create the kinds of five-senses portraits we discuss.
Listener Question
A listener asks how we listen to podcasts while we're trying to fall asleep.
We listen to the podcast playing in the room, and use the sleep-timer function so that the podcast shuts off automatically.
We also mention headband headphones, like this one.

Bonus hack: If you're listening to a podcast, and people seem to be talking faster than usual, you may have accidentally changed your speed-control setting.

Demerits & Gold Stars
Gretchen's Demerit: I went on a trip for a friend's 50th birthday, and I didn't take enough photos.
Elizabeth's Gold Star: People are offering to go to hike in Fryman Canyon with her—friends and also people she doesn't know. It's so encouraging

Resource
As the holidays start to approach, many people start thinking about their shopping lists. If you haven't already, consider signing up to receive product spotlights, gift ideas, and special discounts from The Happiness Project Collection.

What We're Reading
[music] 
Gretchen
Hello and welcome to Happier! A podcast where we talk about cutting edge science, the wisdom of the ages, lessons from pop culture, and our own experiences about how to be happier. This week we'll talk about a whimsical and engaging prompt for creativity, and we'll discuss enjoying our five senses around Halloween. I'm Gretchen Rubin, a writer who studies happiness, good habits, the five senses, human nature.
Gretchen
I'm in New York City, and joining me today from L.A. is my sister, Elizabeth Craft. And Elizabeth, I will never forget seeing you dressed up as Wonder Woman for Halloween.
Elizabeth
That's me, Elizabeth Craft, a TV writer and producer living in L.A.. And Gretchen, I've moved on from Wonder Woman to a corgi theme.
Gretchen
Okay.
Elizabeth
I always do a Corgi thing now.
Gretchen
Cannot wait to see it this year. A quick update before we jump in. The Muse Machine is ready. I am so excited about the Muse Machine. There are limited quantities, so place your order now if you want to make sure that you get it in time for the holidays or if you're doing NaNoWriMo. That's National Novel Writing Month for all writers out there.
Gretchen
If you want it to get your creative prompts, go to happiercast.com/store. It's 150 cards that have these mysterious suggestions that are meant to sort of unlock your mind. I love them. We all use creativity in everyday life, so it's fun to have something to help you over a hurdle if you find yourself stuck.
Elizabeth
Yeah. Gretchen. I looked at it online. It looks so pleasing. Oh, wait to get it.
Gretchen
Yeah, I mean, my DIY version, which I still love, is quite messy. This is the sleek, elegant version. Very, very nice. Yes. And also I gave myself a demerit a few weeks ago for finishing a book that I did not enjoy, even though we have talked many times about why it's better to put down a book we don't enjoy.
Gretchen
So we have time for the books that we do enjoy. And we got two suggestions from listeners.
Elizabeth
Yeah, Becky said, to Gretchen: I had the same problem and I discovered that my reason for continuing books I didn't like was that I wanted credit for what I had read. I didn't like the idea of spending hours on a book just to toss it aside as though I had never picked it up to start with. So this year I started making a list of books I've read, and I'm keeping a separate list of books that I started but didn't finish that way.
Elizabeth
I feel like I'm still getting credit for the time I spent reading it, but I'm able to move on to something I really want to read without the guilt I used to have when I put the book down. It's kind of a ta-da list for books I didn't finish and makes me feel good when I add something to it.
Gretchen
This is brilliant because it is. It's getting credit for it.
Elizabeth
Mm hmm. Liz said. I'm writing to share an idea for obligers who struggle to stop reading a book they do not enjoy, particularly if it is a library book. I think it is helpful to remember that libraries have limited copies of each title. Leaving a book on your in real life or digital shelf often means that it is unavailable to other readers who might enjoy it.
Elizabeth
Reframe the dilemma. You're not giving up on a book. You are giving another reader a chance to enjoy it sooner.
Gretchen
Great idea. And I. Yes, with libraries I do even as an upholder. I think about that like I should get to this sooner so that I can release it back into the world. And if you're not going to finish it, even better. Yes. So this week I tried this at home. Suggestion is to exercise your creativity with the blank is the new blank.
Gretchen
So I was inspired by this because Halloween is the new Christmas. It's celebrated to such an extent, at least here in the United States. There's so much money spent on it. They start early. And I just thought, I love Halloween is the new Christmas. I love Orange is the New Black. I love that way of framing things.
Elizabeth
On the halloween front. Gretchen you know, people now have halloween trees.
Gretchen
I didn't know that. Is that an L.A. thing or is that.
Elizabeth
Maybe it's an L.A. thing, but they have orange trees or purple trees or some Halloween tree, and then they put Halloween either decorations or Halloween ornaments on it. Yes, it's a thing. Okay.
Gretchen
All right. So Halloween is indeed the new Christmas.
Elizabeth
Yes.
Gretchen
And this reminds me of a lot of things that we have suggested over the years, ten of these just fun creative prompts, like write a haiku. That was episode 117, choosing a one word theme that we do each year. That's another everyday creativity prompt.
Elizabeth
Yes, and this may not be exactly practical, but exercise like this adds to happiness by allowing us to just stretch ourselves creatively and then also to feel insightful. It's nice to just, like, ponder these things.
Gretchen
Yeah, it was. I've been collecting these as well, and I get happiness just from collecting them. So there's, you know, it's even better when you come up with them yourself. But even finding them and feeling like, Ooh, this is a great way to express something is also very satisfying. It's like, I think I get the same satisfaction out of collecting these that people do when they add to their Halloween tree collection or something.
Gretchen
It just feels exciting. So Elizabeth, have you thought of some?
Elizabeth
Yeah, so I thought of a few, Gretchen. These are very sort of, of the moment.
Gretchen
Oh, okay that's a great blank is the new blank is trying to capture the moment.
Elizabeth
Yeah. So the Sphere in Las Vegas is the new World's Fair Ferris Wheel.
Gretchen
Oh, yeah. Nice.
Elizabeth
Taylor Swift and Travis Kelsey are the new Princess Diana and Prince Charles. That was the biggest couple I could think of. The most media centric or the new Brangelina couldn't decide. Yes, cryptocurrency is the new gold mining. And then I'm saying that Friday is the new Thursday because I feel like everyone used to go out Friday and Saturday night and sometimes Thursday.
Elizabeth
And now people are going out Saturday night and sometimes Friday. I feel like they're going out less interesting.
Gretchen
Yeah, and it's interesting to think of how that works, maybe with work from home and flexible work how that might be affecting people's patterns. Okay, now I have a lot of these because I've been collecting them for a long time. Some I've written, some I've collected. So here we go. September is the other January. You know, I believe that with all my heart now is the real New Year.
Gretchen
Like now is the time to start your resolution. Now is the real New Year. Plants are the new pets. Breakfast is the new lunch. I don't know if that's true in L.A. Elizabeth, but i think that's true in New.
Elizabeth
York because people meet for breakfast now, though.
Gretchen
Again, maybe less than they even did at one point because of flexible work.
Elizabeth
Because I think you could also say lunch is the new dinner. People meet for lunch instead of dinner.
Gretchen
There you go. I bet that's true. Okay. Interesting. Bowls are the new plates. Love a bowl. No is the new yes. Sitting is the new smoking. We hear that all the time for walk 20 in 20. I think we would invoke that sometime. I feel like August is the Sunday evening of the month.
Elizabeth
So August is the new Sunday evening?
Gretchen
No, Now it's a riff off Blank is the new blank. It's just like this is the that so.
Elizabeth
Got it.
Gretchen
Oh, here's a proverb. Forties are the old age of youth and the youth of old age. Discuss. Survival is the new success. 90% is the new perfect. The kitchen is the new living room. That's been true for a while. 9:30 p.m. Is the new midnight. Absolutely. Brussel sprouts are the new kale. I don't think they are the new kale.
Gretchen
I think there's something else that's the new kale, but I don't know what it is. What is the new kale Elizabeth.
Elizabeth
It's not quinoa.
Gretchen
No, it was quinoa for a while. What are we at now? Question. Okay, fill in the blank. Yet to be determined. Mindfulness is the new productivity. Vintage is the new new. My daughter Eleanor very much believes that. Vulnerability is the new strength. These are so fun.
Elizabeth
These are good, Gretchen. Some of these are, they really hit home. I love it.
Gretchen
Well, I put them in an article, so if you want to go look them up, I'll put a link in the show notes. But I feel like whether we're writing these or adapting these, updating these or collecting these, it just gives that boost of creative liberty and observation in everyday lives. It's energy. You need a prompt, like you need to be told to write a haiku or pick a one word theme or pick your signature color.
Gretchen
Yeah, fill in the blank. So let us know if you do try this at home. How this creativity exercise works for you and what you came up with or what you discovered. Let us know on Instagram, Threads, Tik-tok, Facebook. Drop us an email at podcast@gretchenrubin.com. Or as always, you can go to the show notes. This is happiercast.com/453 for everything related to this episode.
Elizabeth
Coming up, we have a Halloween happiness hack. But first this break. 
[music] 
Gretchen
Elizabeth I was absolutely enchanted by this idea from a listener. I guess it's all the rage on Tik tok, but I had not come across it.
Elizabeth
Yeah, this comes from Laura, she says, I thought I'd share a fun idea for Halloween that's been making its way around TikTok. It's called the Thrift Ghost Painting Challenge. You buy an old painting from a charity shop and give it new life by painting ghosts into the painting. They are so easy to do, even for those who don't paint and make great Halloween decorations.
Elizabeth
You could even buy a few and have a ghost painting party. I'm excited to put on my paintings with my autumn decorations. What a fun idea. Yeah.
Gretchen
And she said, If you just look online for a thrift ghost painting trend, it has lots of suggestions about how to paint a ghost and give you ideas of what it looks like. I thought this was so fun. I love thrift store art and I never knew what to do with it. I'm always like, I really just love thrift store art.
Gretchen
So this seems like something that would be extremely fun to do.
Elizabeth
Yes, I love this idea for a gathering that's awesome.
Gretchen
And it's also nice when you have things that are suitable for the holiday. You know, you and I are always looking for easy ways to decorate and this is something where it could be really fun to do it. And then you always have the happy memory of the fact that you did it sort of handmade and you get it out for Halloween, you put it away and it's very easy and fun.
Gretchen
So thank you for that idea.
Elizabeth
And we love whimsy. It's very whimsical.
Gretchen
And very Halloween. And speaking of Halloween fun with the five senses, this Halloween really tune into your senses. Your five senses of Halloween.
Elizabeth
Yeah. And there are so many that you can do. There's spooky music. Yeah, Candy, for taste.
Gretchen
Of course.
Elizabeth
There's the smell of pumpkins when you carve them. The feel of the costume, you know, there's those different types of whether it's store bought or something you made. Yeah. The touch Gretchen of pumpkin guts. Oh, that is a very specific feel only to Halloween. Those slippery seeds. Oh, my.
Gretchen
Gosh. Well, just saying pumpkin guts, which I didn't know that was the term for it, but that's a great term. It's stringy, it's slimy, it's tough. There's the seeds that we would toast them as children. And so we would be combing through them with our fingers. I mean, that is a feeling that is like nothing else that I experience.
Gretchen
I love just I don't even need to go out and get a pumpkin and carve it. I can just conjure up in my mind.
Elizabeth
Oh, the smell of pumpkin seeds. Yes. In the oven is another great smell.
Gretchen
Yes. Well, here's something that I decided to do. Is this so in my neighborhood, there are some houses in Moore all the time. Really? Because I don't know if you know this, but Halloween is the new Christmas and the decorations are more elaborate every year. And then there's all these because it's New York City, it's very dense. So there's all these kids running around in costumes.
Gretchen
And it's so fun for a good friend of mine. And I would always our daughters would always trick or treat together and we would go. And it was always super fun. Just it was just fun to be out and about and to seeing everything. So I said to her this year, I'm like, Let's go together, you and me.
Gretchen
Like, obviously we're not going to trick or treat, but let's just walk around, let's make a plan, let's set aside the evening, we'll walk around, then another friend decided to come with us. We're going to have dinner afterward. I think I will wear a costume just to be in the fun of it. But I just thought I can still participate as an adult.
Gretchen
Like it's still fun for me to be out. And part of this, the celebration in my neighborhood.
Elizabeth
Well, Gretch, this is, to me, part of your open door time. You know, you're now what people call an empty nester you've reframed as open door. Yes. And you can do these things. You also you don't have to worry about a kid even. You're just, you know, right away you don't have to be like, do they have they gotten enough candy keeping track of them?
Elizabeth
Yes. Right. Are you holding.
Gretchen
On to their.
Elizabeth
Hey, you know.
Gretchen
Yeah, yeah, yeah.
Elizabeth
Probably more fun.
Gretchen
It's fun in a different way.
Elizabeth
Yes. Yes.
Gretchen
And really turning into the five senses and maybe I'll do this at the end of the evening is like we talk about keeping the Five Senses journal as a way to tune into our five senses. Every day is kind of a mindfulness prompt or gratitude prompt, however you think about it. But even if you don't do that every day because some people want to do that and some people don't, you could still do it for Halloween just to sort of help memorialize like what is Halloween like.
Gretchen
That would have been really fun to do when my kids were little. It would have been fun to do for us, Elizabeth. I mean, we could probably do it now. What was our childhood, Five Senses Portrait of our childhood growing up. Yeah, it would be a fun exercise to do with your children as a keepsake book. These Five Senses portraits are surprisingly satisfying to do, I think, and they really feel like you're really grasping on to a memory in a really, really in a way that really allows you to hang on to it.
Gretchen
Because sometimes memories feel a little bit vague. Even experience feels a little bit vague in this way. You feel like you've really gotten specific with yourself.
Elizabeth
Well, we should do this, Gretch, side note, at Christmas, let's do it, have the kids write in their journal. So Kansas City. But we should do it in a five senses.
Gretchen
So my goodness framework I am 100% doing that. That is an excellent idea. And I had another idea for my 24 and 24 is a so yeah we got to start.
Elizabeth
Been thinking also.
Gretchen
So yeah, I'm writing that down. Oh that is so fun. But the funny thing is it's always exactly the same. Our Christmases are so exactly the same, which is part of what I love about it. Yes. So if there's any slight deviation, we'll be like, Oh my gosh, that's the Christmas where we made.
Elizabeth
This oatmeal.
Gretchen
Raisin cookies. And it would be like, Oh my gosh, it's like it will stand out in our minds for years, so. Oh, that's fun.
Elizabeth
Gretchen If people want their own five senses journal, where do they get it?
Gretchen
If you want to check it out, just go to happiercast.com/store or I'll put a link in the show notes. And it's the five senses journal. Yeah, it's super fun. So, yeah, but let's do it for Christmas. Five Senses portrait of Kansas City Christmas. That'll be so.
Elizabeth
Yes. Oh, my gosh. This may be an actual Try This at Home coming up.
Gretchen
Oh yeah. Yeah. And now for a listener question. This is a very specific question.
Elizabeth
And this comes from Liz. She says, I have a question about one of the hacks you frequently discuss on the podcast, Gretchen and Elisabeth, both of you mentioned that you and I think one or both of your spouses like to listen to podcasts to help you fall asleep at night. Every time I hear this, I am puzzled. You sleep with earbuds in or headphones on.
Elizabeth
If so, do you leave them in, on all night or throw them off at some point? Or is this the podcast just playing in the room? I am curious. Every time I hear you discuss this hack, I'm not sure I could sleep with earbuds in or headphones on, but maybe the two of you have a more comfortable solution for listening than I do.
Gretchen
Well, Elizabeth, I think you and I both do the same thing, which is we just play it into the room for me.
Elizabeth
I usually go into sleep a little before for Adam at least, so I can play it and I have it on a sleep timer. So usually it's off by the time he comes in.
Gretchen
I do the same thing. I also go to sleep a little bit before Jamie, but he will often do it too. And one of the ways I know if he's been awake in the middle of the night is if I wake up and a podcast is playing that I know that he's turned it on to try to help, to go back to sleep.
Gretchen
And usually he has gone back to sleep. So it's just this funny way of communicating. But here's the thing if you do this, you really want to use the function that allows the podcast to turn itself off. You don't want it to go all night. And so and I'm going to explain how to do it for Apple Podcasts because it's not hard, but it's just easier if somebody explained explains to you, or you could just go online, but this is how you do it.
Gretchen
If you're just as an example, if you're listening to it on Apple Podcasts. You open the podcast and you hit play, and when you click on it, so you get to the screen where you see the circles that allow you to rewind or fast forward and to control the speed At the bottom right corner, you'll see a little icon that's a moon with Z's next to it.
Gretchen
So that's the sleep timer. If you click on that, it will say 10 minutes, 15 minutes, 30 minutes and end episode or whatever, and you can pick one and then it will play that and then it will shut off automaticly. So it isn't playing endless amounts of time, but it will just turn itself off.
Elizabeth
Yes, it is an amazing function. It's one of those things where technology is our friend.
Gretchen
Yes. Yes. Now, speaking of technology, there is also something which we haven't tried, but I know that people do use them is there are headband headphones and I think some people do use these If they're in bed, you can use them for exercise, but they're kind of like those headbands that are just go over your ears like a fleece ear band cover.
Gretchen
It's that shape, but they have headphones in them and I'll put a link to the popular brand in the show notes. They're like 20 bucks, so they're not that expensive. I have not used them. But if for some reason it doesn't work for you to have it playing into the room, that could be another way that you could do it without having the bulk of the the headphones of the earbuds, because that doesn't sound like it would work very well at night.
Elizabeth
Yeah, well, and what I like about the Fleece, the ear band, is that you can pull it off at some point and not lose it like earbuds. I feel like you're always getting lost.
Gretchen
So yes, falling and some yes back.
Elizabeth
So I think this is a good solution.
Gretchen
Now here's a bonus hack since we're talking about adjusting your settings. In fact, every once in a while we get an email from somebody who's like, Hey, it seems like you guys are talking really fast. What is going on now? I'm a fast talker, Elizabeth you're not a particularly fast talker. No, but we pretty much always talk the same speed.
Gretchen
If all of a sudden it sounds like we're talking really fast, you probably have accidentally hit your speed control setting. So again, if you don't know about this, this is a setting on your phone where you can listen at one time speed, which is just regular speed, 1.25 speed, 1.5 speed. Some people listen to their podcast super fast so they can get through tons of podcasts or audiobooks.
Gretchen
I never do that, but I have from time to time hit it accidentally. And if depending on the kind of podcast, it's not that obvious sometimes if you've only gone up a little bit. But if you're starting to notice and it's kind of annoying to you, check the settings that it's just that regular one time speed.
Elizabeth
Yes. And you can also accidentally change it on your watch. If you're wearing an Apple Watch. It's very easy to accidentally tap it. That's what I.
Gretchen
Do. Oh, I didn't know that. I've never done that. That's interesting. Okay.
Elizabeth
Well, so that may be why it speeds up, because you accidentally tapped your watch, right?
Gretchen
Well, then, if so, somebody might not be aware. Okay, So.
Elizabeth
I learned that. There you go.
Gretchen
Technology is great when it works.
Elizabeth
So there is the answer to how we listen to podcasts that night. And coming up, Gretchen has a photo demerit. But first this break.
[music]
Okay, Gretch, we're back with demerits and gold stars. What is your demerit this week?
Gretchen
This is a very predictable demerit. I'm sure I've given it to myself before. So I went on a trip for a friend's 50th birthday. It was so fun, and they just didn't take enough photos. Because I like to use photos as, like, a visual diary. I find that later on it really helps me to remember all the things that happened.
Gretchen
Sometimes I'll do something like take a photo of the name of a restaurant or the hotel where we stayed or something to show that when I'm looking back years later, I some people can remember all the names of these things for years. I don't remember the next day, you know, I said, I really want to find out. So I use it in all kinds of ways.
Gretchen
And then it's just fun to have pictures of your friends. Obviously, I just hadn't taken enough photos. I don't know why it wasn't on my mind. We took pictures like a few group photos and I took some super random ones. I don't know why I thought of it a few times and not more times. It's kind of surprising.
Elizabeth
Well, maybe it's just a sign of how much fun you are having. Maybe you're just having too much fun to stop and take photos because I know when I'm super engaged, I don't even pick up my phone sometimes.
Gretchen
Well, maybe so. Okay. Well, that's kind of a nice way to reframe.
Elizabeth
It's a demerit, but maybe it's also a gold star for the trip that you are having so much fun. You didn't take.
Gretchen
Photos. That's good. I liked that reframing. So next time I'll say, like, even though I'm having a really fun time, remember to take a picture. Okay. What is our gold star? What's your gold.
Elizabeth
Star? My gold star, Gretchen, is to all the people offering to go do Fryman Canyon with me. So let me explain. For anyone who doesn't know, I have set I first set an intention to do Fryman 50. Yes, I'm Fryman Canyon, The trail I like to do in L.A. 50 times. Then I up to 100. Yeah. So I've talked about it a lot on the podcast and what is so nice is both friends of mine have heard this, have reached out or friendly acquaintances and said, Hey, I heard you want to do Fryman, like I'll do it with you.
Elizabeth
Because they also offered no I'm an obliger. Then also listeners have reached out, Gretchen, I've had people say hey I'm coming to L.A., I would love to do Fryman Canyon. Yeah, I will meet you there. I've had a bunch of people reach out. Just want to help me get some.
Gretchen
I had some.
Elizabeth
Energy, really touching.
Gretchen
First of all, that's really nice. Everyone's pulling for you, so they're encouraging you and they're giving you that accountability. But it also makes me realize when you announce that you have something like this, it is a way for people to connect with you in a different framework. Well, I get this with the Met. Yes. Because sometimes friends will be like, Oh, I'm in your neighborhood.
Gretchen
Do you want to go to the Met together? I don't think it would have occurred to them otherwise, but since they know that it's a thing for me, it occurs to them to suggest it. And so I feel like there's a bigger lesson there in terms of structured, spontaneous engagement or something. I don't know. We're going to have to think through what is the lesson of this, because maybe it is also that people want to engage.
Gretchen
They want to be reminded to connect. And this is a different way of connecting or suggesting a connection anyway. There's much to ponder there.
Elizabeth
Yes. And it's like they're doing something for you. Yes. It's kind of an expression of love in a sense.
Gretchen
Yes. No, it's really true. That's interesting. Well, anyway, so what number are you on, Elizabeth?
Elizabeth
I think I just completed yesterday 83.
Gretchen
What?
Elizabeth
I'm getting there. I'm definitely going to make it. I want to make it well before because I don't want the stress of it hanging over.
Gretchen
Yes. Yes. You're a finisher. Yeah.
Elizabeth
So anyway, I'm loving it, though. I'm so glad I upped it  to 100 and to thank everybody for reaching out.
Gretchen
That is bold. Excellent. Well, gold star to them. A gold star to you. The resource for this week. Okay. The holidays are starting to come. You know, Halloween is the new Christmas, but Christmas is the old Christmas or in the holiday season of gifts. If you are starting to think about your shopping list and you want ideas and discounts and stuff about all the things that I have, which are starting to be quite a collection, the Happiness Project collection.
Gretchen
If you go to happiercast.com/preferences, you can sign up to be notified whenever there's new stuff or there's a discount or whatever. So. So sign up for that happiercast.com/preferences. And Elizabeth, what are we reading? What are you reading?
Elizabeth
I am reading Number Go Up by Zeke Faux.
Gretchen
And I'm just about to start Obvious in Hindsight by Bradley Tusk. And that's it for this episode of Happier. Remember to try this at home. Spark your creativity with the blank is the new blank exercise. Let us know if you tried it and if it worked for you.
Elizabeth
Thank you to our executive producer Chuck Reed and everyone at Cadence 13. Get in touch. Gretchen's on Instagram and Tik Tok and Threads at Gretchen Rubin and I'm on Instagram and Threads at Liz Craft. Our email address is podcast@gretchenrubin.com.
Gretchen
And if you like this show, here it comes. We remind you and we really appreciate it when you do it. Please be sure to tell a friend. Email them a link to the episode or follow rate or review the show in your favorite podcasting app.
Elizabeth
Out until next week. I'm Elizabeth Craft.
Gretchen
And I'm Gretchen Rubin. Thanks for joining us. Onward and upward. So, Elizabeth, I just had this realization about our Try This at Home. What? Okay, so it was blank is the new blank. But I don't think that we remembered to mention Orange is the New Black, which has got to be right now, at least the most famous blank is the new blank example.
Elizabeth
You mentioned it in the intro. You said it's like Orange is the New Black. I didn't mention it.
Gretchen
It's okay. Okay.
Elizabeth
We also didn't mention that 40 is the new 30 and 50 is the new 40.
Gretchen
Oh, right. Okay.
Elizabeth
60 is the new 50 and.
Gretchen
So on and so on.
Elizabeth
So a lot.
Gretchen
Yeah. Okay. Well, we'll keep collecting them.
Elizabeth
Like I love this exercise.
Gretchen
Volume two. Excellent.
[music]
From the onward project.